Skye Tamarama's $20m penthouse apartments relisted
Sydney's newest $20million plus beachfront apartment penthouses have finally come back up for sale after being abruptly taken off the market eight months ago in a row with the New Building Commissioner -South Wales regarding fire regulations.
The two penthouses were built atop a seven-level 1960s building in Tamarama as part of an ambitious sale plan to fund the $50 million renovation and renovation of the entire building of 78 apartments.
Skye Tamarama – formerly known as Glenview Court – has finally received a building certificate, following a shock stop-work order imposed on the building by the Office of the Building Commissioner in December 2021 as it was about to be finished.
Fair Trading building and construction compliance manager Matthew Whitton said 2019 building code legislation required sprinklers to be installed on every level of the building, while unit owners did argue that their lawyers had advised the 2016 standard – which called for fewer sprinklers – applied to the older massing of the building.
Now, with sprinklers only in the new basement parking lot and the two new penthouses, the order has been lifted. It is expected that the certificate of occupancy will also be issued shortly, meaning that the owners will finally be able to re-enter the rest of the building.
"The certifier has now approved the building which is a huge relief," strata committee chairwoman Christine Smetsers said of the former brutalist building which has now undergone a major facelift, as well as the addition of the two penthouses, the two level parking lots, balconies or courtyards overlooking the apartments and a new wave-shaped roof.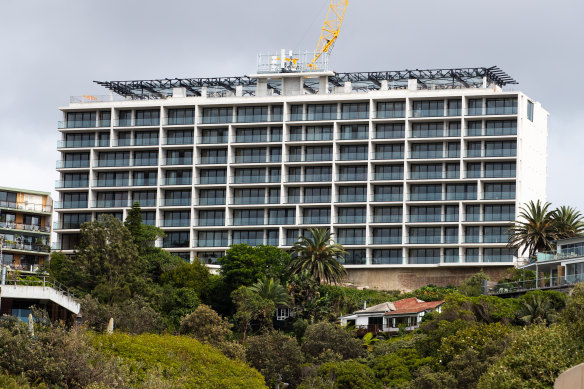 "We offered this [sprinkler] solution eight months ago, but it took all this time to resolve the situation. It was very painful for everyone, and it feels like something that didn't need to happen. But now we're happy to move on and everyone will be back in the building in about three weeks.
It was the latest snag in a hugely complex operation to overhaul the eye-popping block sitting prominently on a ridge on Illawong Avenue, overlooking the beach. The long-running saga began in 2011 when the building received numerous fire orders and was found to be riddled with concrete cancer.